Client Testimonials
On Trust and Probate Administration…
"We would like to express our family's gratitude for your professional help settling the California estate of our dear mother. Your calm, measured, and discrete approach gave us the confidence and focus we needed to deal with the myriad of familial, financial, and potential legal complications we faced after mother's sudden passing. Indeed, close friends advised us that the probate process would be stressful and lengthy, especially in our situation of four co-executors (our mother's four children). However, your accessibility and command of the probate process provided us a common roadmap that served well the individual needs of each co-executor and that led to the estate being settled in less than 10 months.
Perhaps the best decision we made this past year was retaining you as our mother's estate attorney. Our mother would be pleased at the disposition of her estate, especially since it was an experience that strengthened bonds between her beloved children." - Deborah (co-executor)
On Estate Planning…
"Shirley provided us with answers to all of our questions about our estate planning documents, regardless of how basic, with thoughtfulness and in plain English. We are very pleased with the legal services we received and would recommend her to any of our friends or family" - Maureen and Everett
"After all my children had grown up, my husband and I had been putting off revising our wills for years, thinking it would be a big hassle since we are so busy. Shirley made the experience so easy, we wondered why we had been procrastinating all these years! Shirley is approachable and friendly. Her ability to understand our needs and transform them into legal documents was seamless. She is skilled in her craft and we felt very confident in her. We are very happy with our revised wills, and will go back to her for any other estate issues that might come up in the future." - A.H.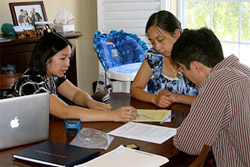 "Shirley is my estate lawyer for life. She did my family's living trust. I have young children so guardianship and financial / medical power of attorney were important to me. She expertly guided us through the entire estate planning process, gave us an education and we never felt pressured. She has young children and totally understands. She's smart, knows her law and you can tell she cares. What more can you ask for in your estate lawyer?
When we looked around, not every attorney that does trust and will drafting also does trust litigation. I am comforted to know that she also does trust litigation and has the knowledge of what can go wrong with a poorly written will.
I had a good friend who needed probate attorney and I proudly recommended Shirley as my lawyer. My friend lived in Sunnyvale is very busy and found it hard to make it out to downtown San Jose. Shirley actually did a home consultation at my friend's home in Sunnyvale!
As for first impressions, we came from Mountain View and went to her downtown San Jose office for a free first consultation. She validated parking for us. It was a small gesture but already a example of her thoughtfulness." - Otto F.
"I brought my parents in to see Shirley for an estate planning consultation. They were a bit nervous and not too sure how they wanted to set up their living trust. Shirley took the time to explain all of their options and was so helpful and patient throughout the entire process. She answered all of their questions and made them feel comfortable. They were quite impressed and decided to hire her on the spot. They were very happy with the results and now can relax knowing that if something happened to them, that everything would be taken care of. Shirley is very professional, experienced, knowledgeable, friendly and honest. My parents were very satisfied with their experience from beginning to end. I would highly recommend this attorney to others." - Mrs. S.
"I was extremely satisfied with the legal services provided by Shirley. While transferring my assets to a Living Trust, Shirley advised me on my options, explained and clarified any issues, listened closely to my wishes and then drew up all the necessary documentation. Throughout the whole process, she kept in close touch, responded promptly to my phone calls, and answered my questions clearly and concisely.
The finalized documents were exactly what I wanted, something which I fully attribute to Shirley's legal expertise and professionalism." - Caroline L.
"I have worked with Shirley over the past year on a very difficult and unusual trust settlement. I applaud her for her integrity, professional manner and thorough attention to details in our dealings, with opposing council, and in the courtroom. I always felt she kept me in the loop with all preceding and had my best interest every step of the way. There were many times I was nervous and felt overwhelmed by the case, but Shirley took the time to fully explain the situation at hand and quickly calmed me down. Shirley is committed to total client satisfaction and provides extraordinary services.
As my family's trust needs change over the upcoming years, I will no doubt continue to work with her and her firm as I feel she has my family's best interest at heart. I could not recommend her more highly." - Ron G.